Hello, I'll explain things quickly.
I made a program for my internship. The program is supposed to count up until it hits a certain date and time, when it does, it should open a url in the user's default browser that leads them to a Twitch stream.
The code itself works and I've tested it in it's standalone application and in the LiveCode engine itself. Both work fine.
However, whenever I move the standalone application OUT of the windows folder, and try to run the program, it tells me this: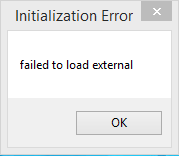 Here is a download to my stack :
http://7leven.on-rev.com/downloads/Code ... 0Stack.zip
Please help me out. The people I'm distributing the application to won't like that they have to leave the application inside the windows folder. Thanks.