My computer had a virus and in the process of fixing it, it wiped out my JDK files (When you used the start menu and clicked on Android SDK, it had "empty". Because of this, my Livecode won't run in test mode. So I am trying to reinstall JDK - unsuccessfully.
First, I installed Java jdk1.7.0_21

. It seems to be in the Programs folder, everything seems OK.
Then, I installed Android SDK....or maybe I didn't. It wouldn't let me download it in the programs folder, so I downloaded it in my docs folder. (I tried switching to administrative mode, and am not too sure I succeeded there either. I set everything for all access - but it still wouldn't let me save it in the programs folder.) Anyway, when I installed (or tried to install) the Android SDK, I got the results in the image below. I THINK that the image here says that some of the items are already installed, but I don't know where they are located on my computer...and clicking "install 1 package" didn't seem to do anything....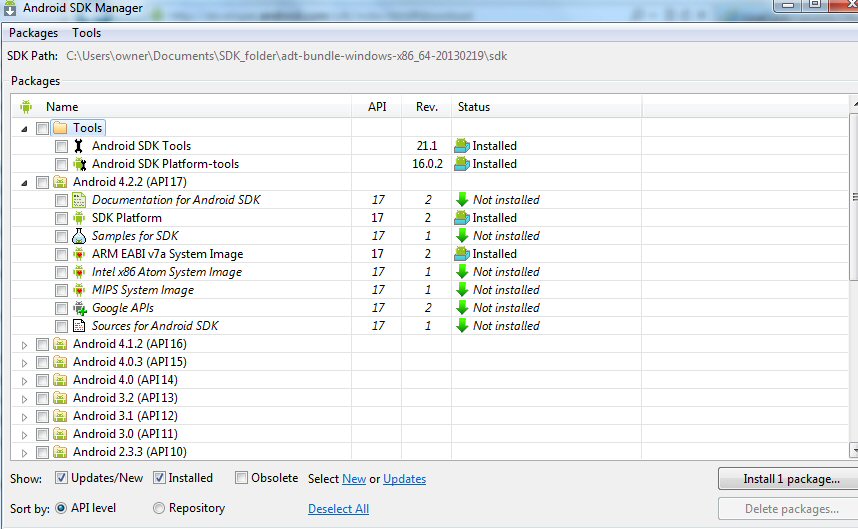 or maybe it is already installed...in the wrong place???
I also set up the Environment Variables JAVA_HOME to c:\program files\java\jdk1.7.0_21 - which is where the java is. (although somewhere in the back of my mind, the first time I had to use jdk1.6.0_45 (but I tried that today and it doesn't work either).
All I know is when I open up Livecode, the Standalone Application settings are clicked for Android, but the test environment is dim in the Development dropdown - and there is nothing in my Start menu anymore for Android SDK...
As you can see, I've tried all these random things, but really don't know what I'm doing.
This used to work, but unfortunately, I can't figure out how to make it work again. HELP!!!!