I got fed up with constantly having to search all my LiveCode installs and the number of shortcuts cluttering up the desktop, so ....
I've Just added a little helper to make finding and launching your LiveCode installs a little simpler.
http://livecodeshare.runrev.com/stack/807/LC-Launcher
LC Launcher easy launcher for LiveCode Installations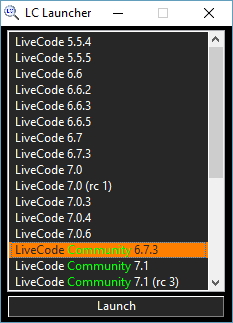 At the moment this is Win and Mac only .. still trying to get it to work on Linux ... help appreciated.
A helper stack to list all of your LiveCode Installtions, providing that you have installed in the same base locations.
In Development mode the Scan and Save button is shown and saves the current engine path to a Custom Property of this stack.
Once the CP has been set please build as a standalone to use. This has to be done for each computer you have your installs on.
The standalone version will replace the Scan & Save button with a Launch button...select the version of LiveCode from the List and Launch.
Remo